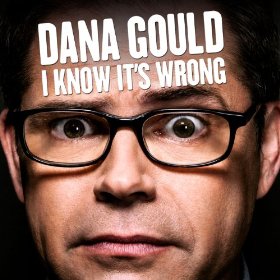 Buy the album on:
iTunes | Amazon | Google Play

Dana Gould takes on the absurdities of modern life through a pop-culture obsessed lens. Unapologetic and off-the-wall funny, there's no middle ground in this comedy special filmed at the Neptune Theater in Seattle, WA.
Combining the timing of yesteryear with the indie comedy of the 21st century, writer, actor, and standup comedian Dana Gould was born and raised in the "ironically named" town of Hopedale, MA. He moved to the West Coast during the mid-'80s comedy boom, landing first in San Francisco, where he became the initial inhabitant of the Comedy Condo, an apartment that would later be rented by Ryan Stout, Daily Show co-creator Lizz Winstead, and many other comedians. After a move to Los Angeles, he made numerous appearances on Letterman and Conan along with some HBO specials. In the early '90s he became a regular on The Ben Stiller Show, then in 1995 he became the voice of the video game character Gex. In 1998 the Uproar label released his debut CD, Fun House, and then in 2001 he began a seven-year gig writing for The Simpsons. The Shout Factory label released his second album (and first standup DVD), Let Me Put My Thoughts in You, in 2009.